Brief history about McDonald's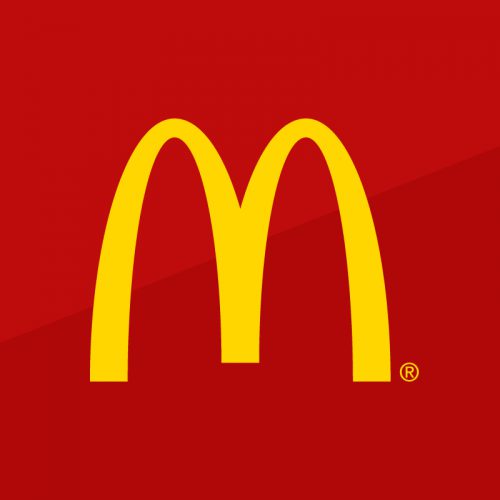 What is McDonald's? I think everyone is familiar to the brand McDonald's, but not everyone know's the story behind the fast food chain, so here you have a short brief.
In 1937 Patrick McDonald opened a food stand named "The Airdrome" in California, where he sold hot dogs. Hamburgers and orange juice was later added to the menu. Patrick had to sons; Richard and Maurice McDonald. In 1940 they changed the location of the restaurant and were later renamed to "McDonald's Bar-B-Q". By then the menu expanded, but the sold mostly barbeque items. In 1948 the brothers realized that their profit came from selling their hamburgers, so they closed their shop and started a new one that was more streamlined, with menus, containing hamburgers, cheeseburgers, soft drinks, milk, coffee, pie, and potato chips. It reopened as a self-service-drive-in restaurant.
In 1949 they replaced their potato chips with French fries as we all are familiar with, and they introduced Milk shake to their menu. In 1954 a salesman named Ray Kroc visited the McDonald's to sell those more multimixers that are milk shakes machines. He was so intrigued by the brothers, and he understood that they wanted to open a worldwide franchise, but they needed an agent. He then decided that his future would be in hamburgers, he believed that the McDonald's formula would be he's opportunity to success. He was determined to set up several McDonald's restaurants throughout the country, and so he did. Ray Kroc opens his firs McDonald's restaurant in 1955 in Des Plaines in Illinois. The building was red and white with a golden arch designed by architect Stanley Meston in 1953. In 1977 you could find over 700 McDonald's restaurants throughout United States.
In 1956 Ray Croc hired Fred Turner. Turner worked as a counter for the Des Plaines, but he was the man who would become responsible and the head of McDonald's service, quality and cleanliness, and his vision has continued until to this day. In 1958 McDonald's could celebrate, they had now sold their 100 million hamburgers. In 1959 they opened their 100th restaurant in Wisconsin, and in 1969 they open a hamburger university in Illinois.  In 1962 in Denver Colorado, they open the first restaurant with indoor seating. In the beginning it started with a food stand, and then it turned into a drive-in restaurant, but now you could enjoy your burger meals inside the restaurant. In 1963 they open their restaurant number 500 in Ohio, so in 1965 they could celebrate their 10th anniversary. In 1966 they had their first television commercial, Ronald McDonald where the brands mascot, and appeared on a flying hamburger. This commercial was shown on color TV at NBC and CBS, it was a big success.
In 1967 McDonald's goes international; today they are in 119 countries around the world. The popular Big Mac was introduced in 1968; it was developed by owner and operator Jim Deligatti of Pittsburg. In 1969 McDonald's went through a major make over, the famous golden arc logo was updated, and the restaurants went through a big remodeling process, the old red and white buildings where changed. In 1971 Ronald McDonald got himself some new friends; Hamburglar, Grimace, McCheese, Captain Crook. The Quarter Pounder and Quarter Pounder with Cheese were added to the menu this year. The first Ronald McDonald house opend in 1974 in Philadelfia, and in 1975 you could enjoy your first Egg McMuffin. McDonald's had their first All American high school basketball team, and in 1978 restaurant number 5000 opens in Kanagawa in Japan.
Many children loves the Happy Meal menu, it had it's first debut in 1979, and now McDonalds could celebrate their 25th anniversary in 1980. In the 80's McDonald's goes more abroad, they open restaurants in Denmark, Spain and the Philippines in 1981, by 1983 McDonald's have restaurants in over 32 countries. The founder, Ray Kroc passes away in 1984, but in 1985 McDonald's could celebrate again their 30th anniversary.
Fresh salads are added to the menu in 1987, and by 1988 the hamburgers gets very famous, and are mentioned in Fortune Magazine, and rated among 100 products America makes best. Over 30 000 customers could enjoy their meal from McDonald's in Moscow at their opening day, this in 1990. Restaurants opens in Warsaw in Poland in 1992, 3 years later the advertisement "Have you had a Break today" debuts. McDonald's grows fast and in 1996 McDonalds.com is launched, and they have their Corporate/Global website: www.aboutmcdonalds.com.
As the years passes by, they changes their new advertisement, and "Did somebody Say McDonald's?" are added in 1997. In 1998 "Made for you" kitchen operating platform is introduced in all the restaurants in the U.S, this gave more flexibility to the kitchen and better customization of the menus, this is now used all around the world. Fruit in yoghurt are added to the menu in 2000, Big N' Tasty are joined the menu in 2000 and McDonald's Co. Japan are listed in Nasdaq. In 2002 McDonald's founded McHappy Day – Children's Day, and raised over 170 million dollars, benefiting RMCH and children everywhere. This year their first social responsibility report is publiched, and one dollar menu launches. In 2003 McDonald's plan is to win, and they launch their strategic framework. Premium salads, McGriddles is added to the menu, and the famous slogan "I'm loving it" is launched in a global campaign.
Happy Meal celebrates 25 years in 2004, and in 2005 McDonald's celebrates their 50th anniversary. Snack Wrap is added to the menu in 2006, and now you had nutritional info added to the packaging. The same year McDonald's have a voice contest, a global singing contest, to discover and reward the most talented singer among the millions of employees of McDonald's restaurants. McDonald's updates their packaging in 2007, they do the same in 2008, and they introduce the most comprehensive global packaging design in the brands history. 2009 McCafe goes international, Angus Thirdpounders, and Mack Snack Wrap is added to the menu, and they are awarded for being green, something I find very important. McCafe Real Fruit smoothies and frappes is added in 2010, and now they offer all customers free Wi-Fi in over 28000 McDonald's restaurants around the world.
By 2011 McDonald's operates in 119 countries and they have improved their nutrition choices. Shamrock Shake is launched in the U.S in 2012 and McDonald's reveals that they have renewed their Olympic Games Top sponsorship through the 2020 Games.
This was the short version of the story of McDonald's. Source: http://corporate.mcdonalds.com/content/mcd/our_company/mcdonalds-history.html and Wikipedia.
In my next blogpost http://grafisk.torilsorlie.no/2016/08/28/scamper-model-and-mcdonalds/ you can read about how I've used the SCAMPER model to explain how McDonald's used the SCAMPER method to become the success they are today. At last I will recommend you to use the SCAMPER model in your business or in your ideas; maybe it will help you to take it a step further!
---