LA-Creating a logo using Gestalt Principles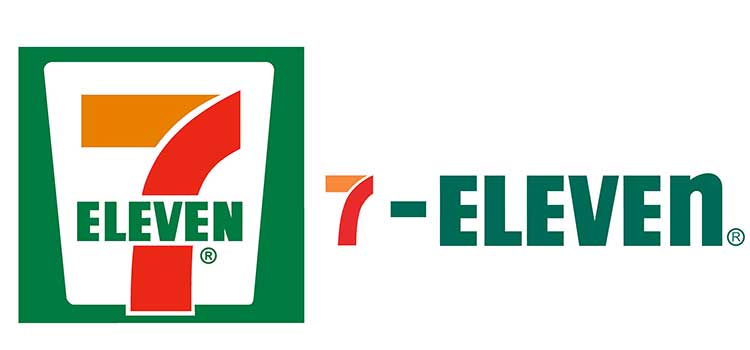 Third task week 4/5 is creating a logo using the Gestalt principles.
Look at the following 7-eleven logos and consider their shape, form and simplicity of design. The way they communicate and are recognizable.

Identify. In your own words explain what you consider 7-Eleven's individual Gestalt principle to be. Describe the logo and put it into its own category.
Pick any 3 gestalt principles and recreate 3 versions of the 7-Eleven logo according to your chosen principle. Be creative and innovative with how you do it. Sketch, plan, do it by hand before digitally creating your favourite in a vector format.
You entire process including sketches and research need to be loaded on your blog as part of this learning activity.
IDENTIFY:
I have looked at the two logos, and I think they have used Closure and Continuation in the logos. Closure is used in the number 7, you can definitely see that it forms the number 7, but the number is not fully closed. The red big column in logo number 2 points towards the word eleven, this is where Continuation is used, and you are driven towards the word "eleven".
The logo uses only 3 colors, where the green is dominating. The font and number always stays the same and are easy recognizable. The red is a dominating color, a call to action color, and by using the color red on the stem of the number 7, it draws the attention towards the wordmark. I think the logo is a combination of a wordmark and a symbol. Restaurants uses the color red and orange consciously in their restaurants, because it's proven that those colors makes the customers feel hungry, and gives a warm feeling. Maybe 7-Eleven have used those colors to indicate that in their shop you can buy food. The color green tones the red and orange down, and makes the logo look balanced.
They have used a trademark in their logo that makes the logo represent the brand as a professional. By using a trademark they signalize that they want to protect what identifies their business. The trademark makes the logo stand out as a serious actor on the market.
3 gestalt principles

Here you see some of my different sketches, I have higlightend the 3 gestalt principles, for my logo I decided to use Closure.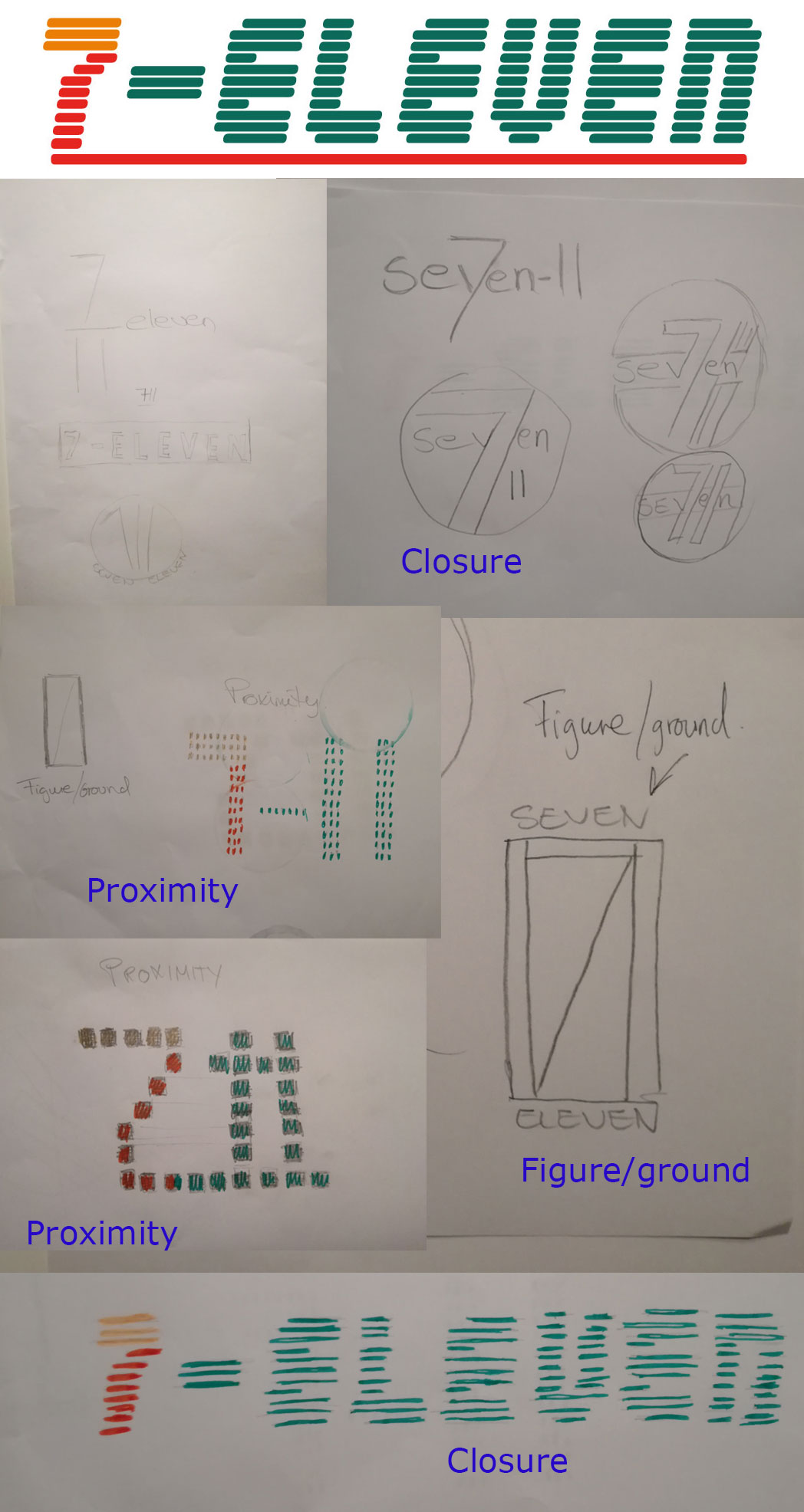 This was my favorite amongst all of my sketches. I think it is clean and easy to read. I have kept the same colors that 7-Eleven have used in their logo. My favorite Gestalt principle for this was Closure.
I have used sources like Google image search for inspiration, and I have used Google font and image search. I have also used my book "Logo Design Workbook" written by Admas Morioka. I visited this site for inspiration: https://www.premedhq.com/gestalt-principles and used Lynda.com as well.

---