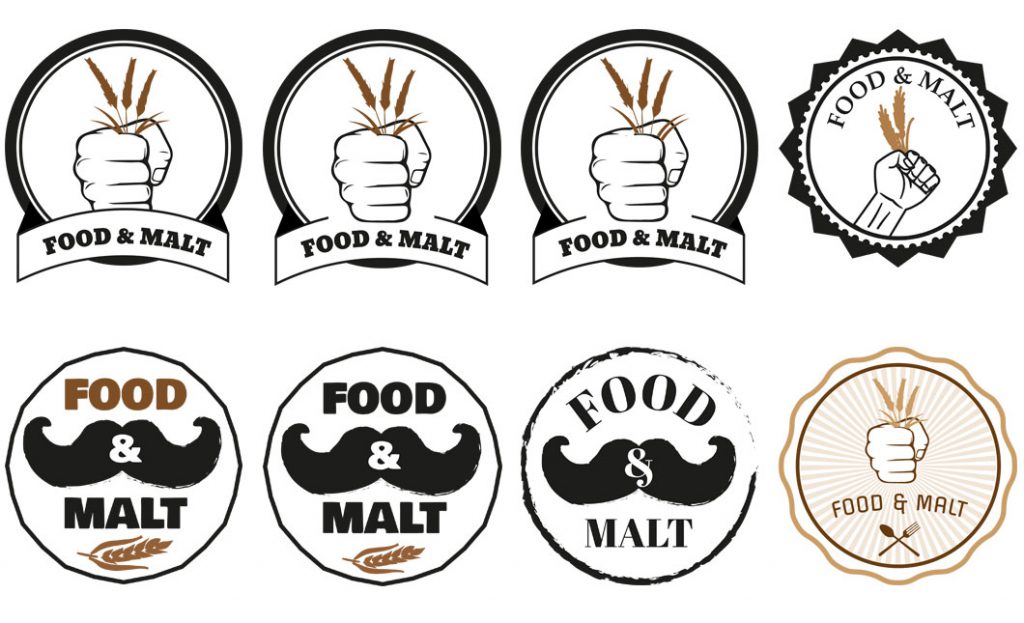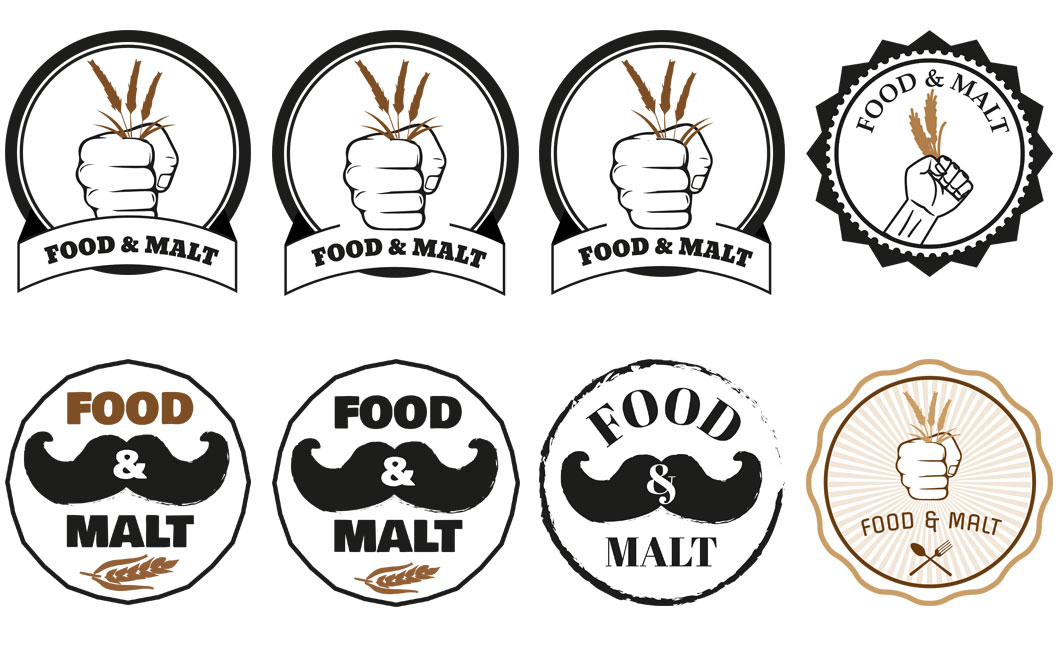 In the last weeks I have been working on making a logo for a brand called Food & Malt. This has been a challenging process and very much fun. The learning curve is going fast and is steep, and I like it.
The logo had to be made in illustrator, and I have used the time to click around and try to become 'best friends' with illustrator. That have been challenging I have to tell you, sometimes we have been the best of friends, and other times my worst enemy haha.. 🙂 But my knowledge is growing, and the more I learn the more fun it becomes, actually, it is fun all the time. Working in Illustrator is kind of addictive, once you start, it is hard to stop, I want to continue learning and building up my skills, so I can create better and better design.
In this assignment we should provide knowledge of:
Research, sketching and target groups.
The process of communication and how to get the message across.
Practical skills and understanding on their journey to master the tools of the trade.
The use of typography and color for print.
We were only to use paper, pen/pencil and Adobe Illustrator. I used inDesign for my profile manual.
Brief of our assignment:
Name of establishment: Food and Malt
Background: Food and malt is a collaboration between Anders Braathen and Even Vehla. Anders Braathen has a background as a master brewer at Brooklyn Brooklyn Brewery, New York and Nøgne Ø brewery In Grimstad. He also worked as a restaurant manager at Uncle Billy's Brew and Que in Austin, Texas as well as a cook on Rita's Bar and Diner In London. While abroad the friends discovered Dude food as a growing trend. But instead of Kebabs and Sausages as a meal. Customers can instead enjoy home made good quality food on the streets or at a pub. With their new company "food and Malt" the friends want to introduce this food culture combining it with the microbrews trend.
Food: Good quality home made lunches and evening snacks and a great selection of beers complimenting each meal.
Location: Meat Bazaar
Target Audience: Young urban individuals between the ages of 18 and 35 interested in culture, food, design, trends and night life.
Competitors: The neighbor, Henry and Spisekroken.
Positioning Axis: Traditional with a modern twist. Cheap. Dishes to around 100-150 NOK
Style Expressions: Hipster, letterpress, quality, homemade, professional
The requirements for the logo are:
It should be simple and easily recognizable.
Timeless, and preferably not more than 2-3 colors.
Optional – the logo can contain symbol / figure / ornament.
Procedure
Research
Who are the main market competitors and how is their design?
Product history
Product characteristics
Define issue:
What defines the target group
Which characteristics should the logo show.
The design challenge.
Idea development and sketches:
Use different methods and techniques to come up with ideas for the design.
Digitize the logo in Adobe Illustrator
Produce the logo in the following color spaces:
RGB
CMYK
Black/white
When submitting, the logo should be presented in a profile manual with the logo in the above colour options. A colour swatch also needs to be included. Please see an example of a profile manual on Moodle
Submission:
Submit 3 logo files in PDF format.
* RGB
* CMYK
* Black / white
Report
* Idea development (sketches)
* A summary of your work process (use the report guidance at Moodle)
* Link to WordPress reflected diary posts
I have used these weeks to gain knowledge about the concept 'Dude Food', I have made hand drawn sketches, I have learned about typography, watched learning videos at Lynda.com, searched the internet, worked in InDesign, Photoshop and Illustrator, watched YouTube learning videos about Illustrator and InDesign, been reading in our learning books, designing a logo for Food & Malt and made a profile manual. Maybe I have forgotten something, but in all I think this explains what I've been up to. And in addition to this we have our LA's – lessons that we are working on and have to publish on the blog, it is really exciting and a lot of work, so no work no gain and I love studying Graphic Design at Noroff!
Here are some of my logos that I worked with in Illustrator, which I DIDN'T choose for my end result: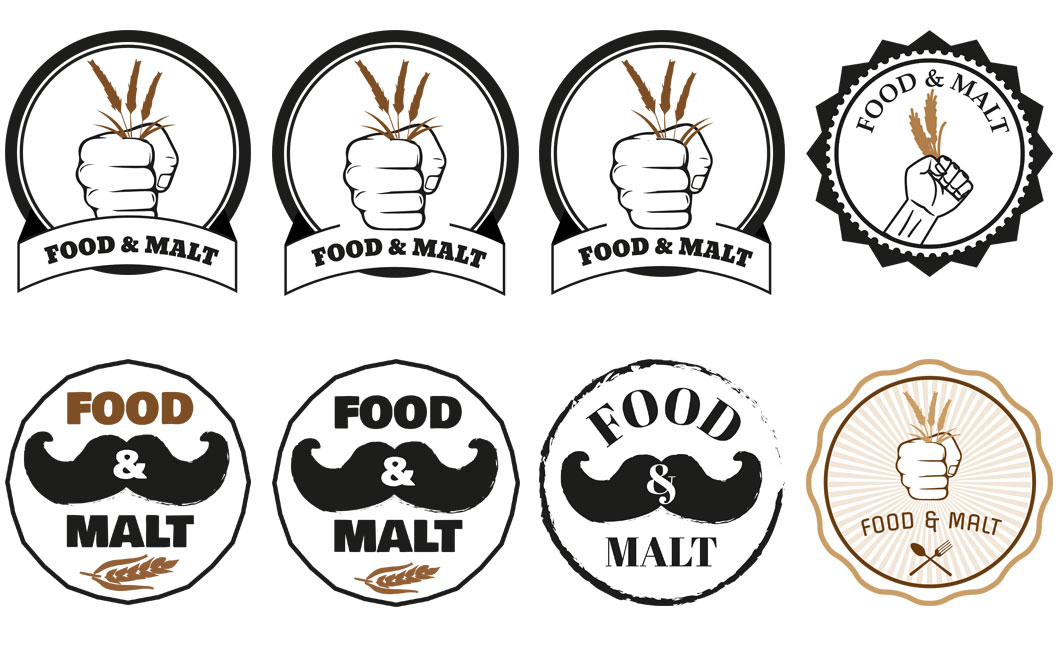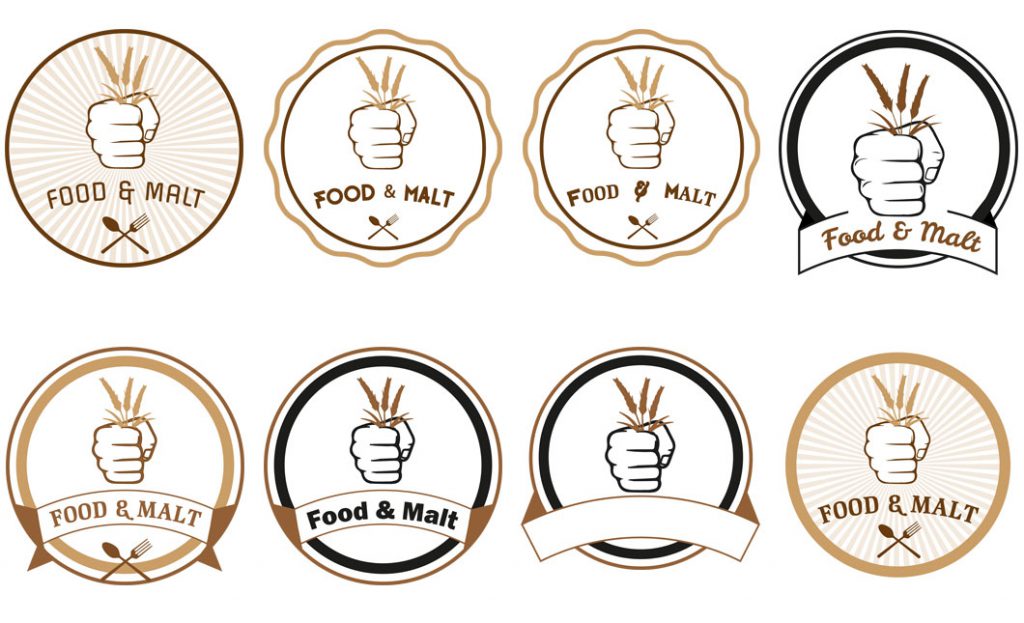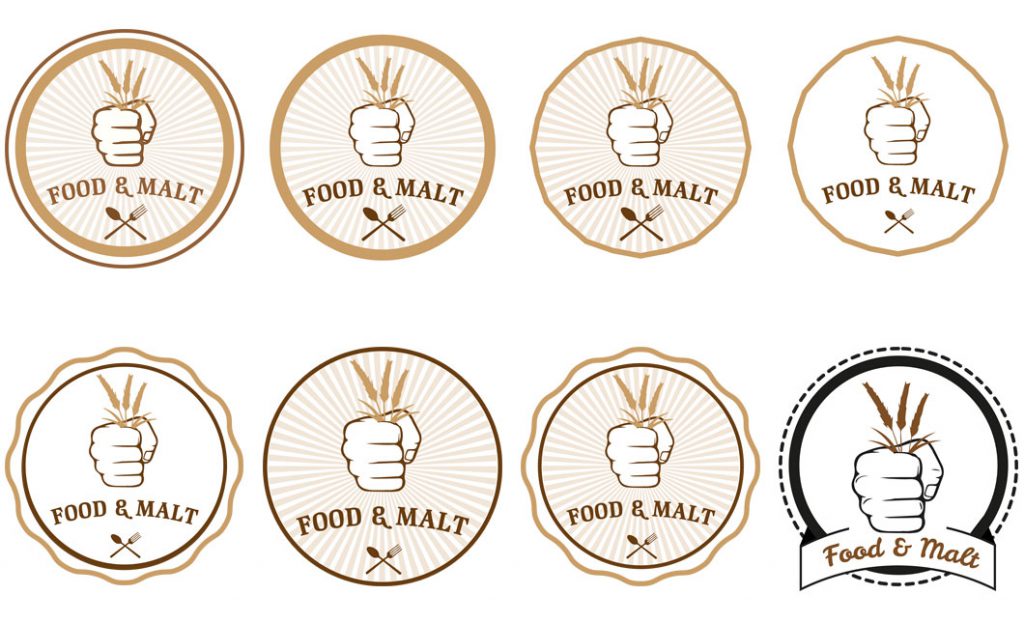 Here you can see some of my sketches: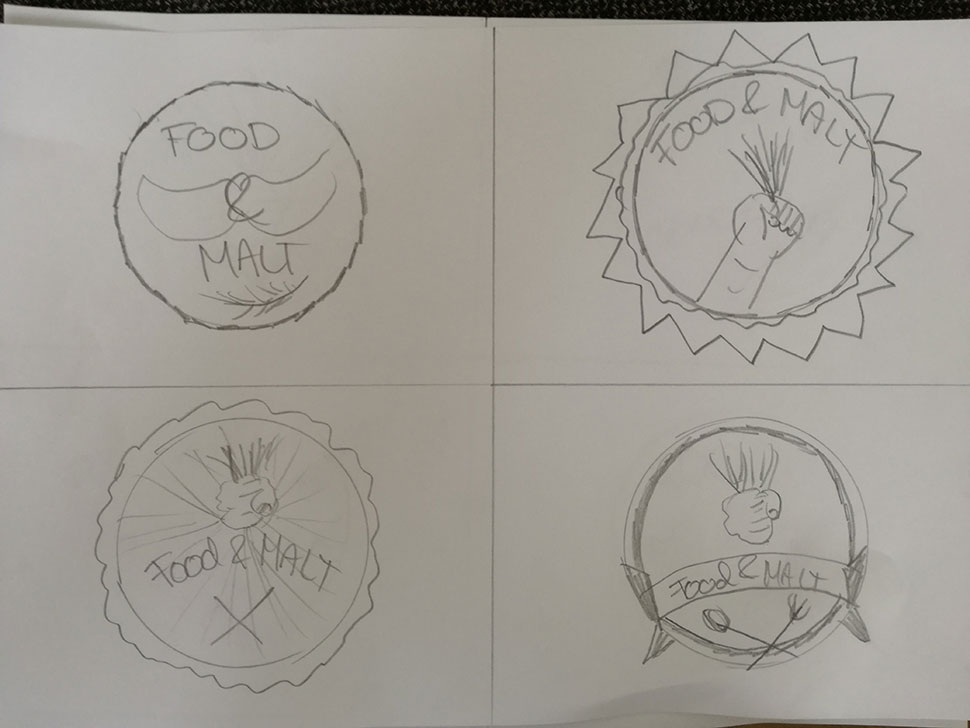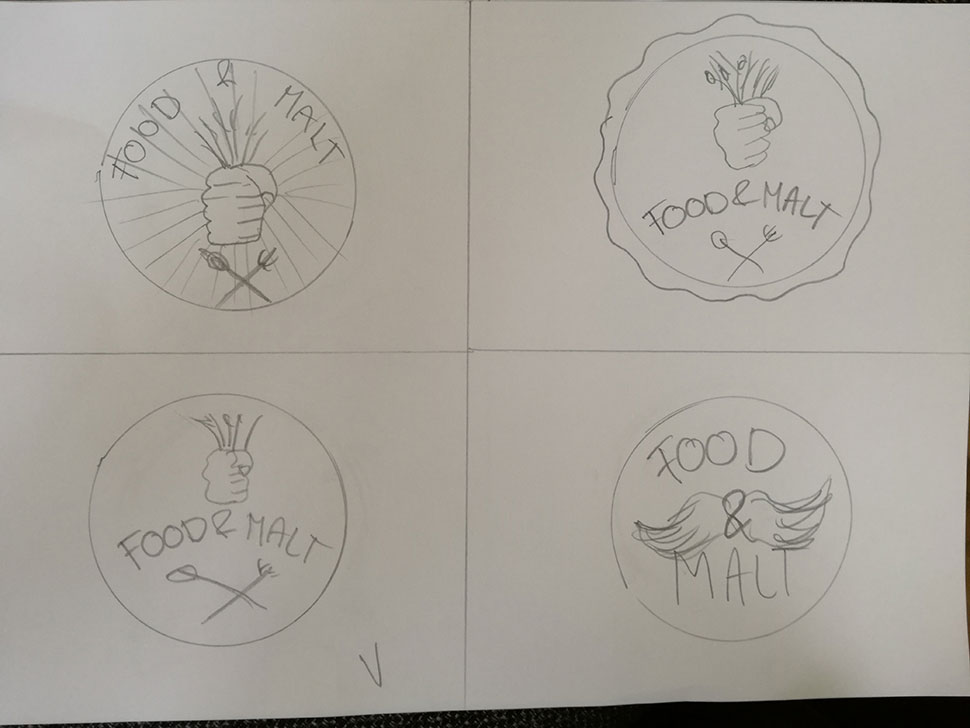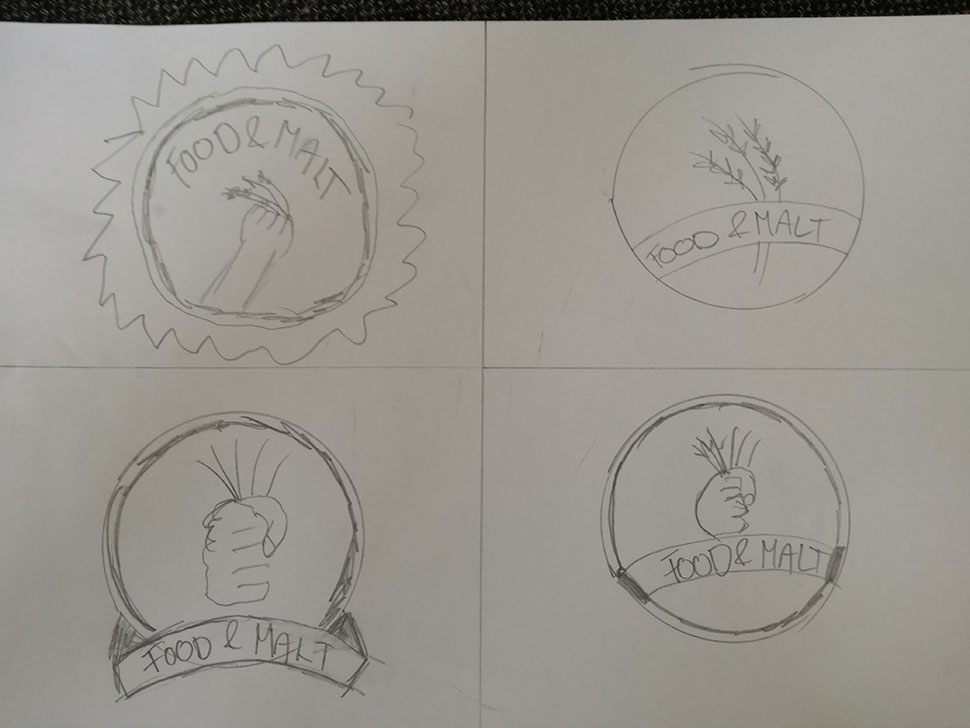 In my next blogpost I will reveal which logo I went with for this task. Thank you for reading and following my process, you rock! 😀
---