Learning Activity – Typography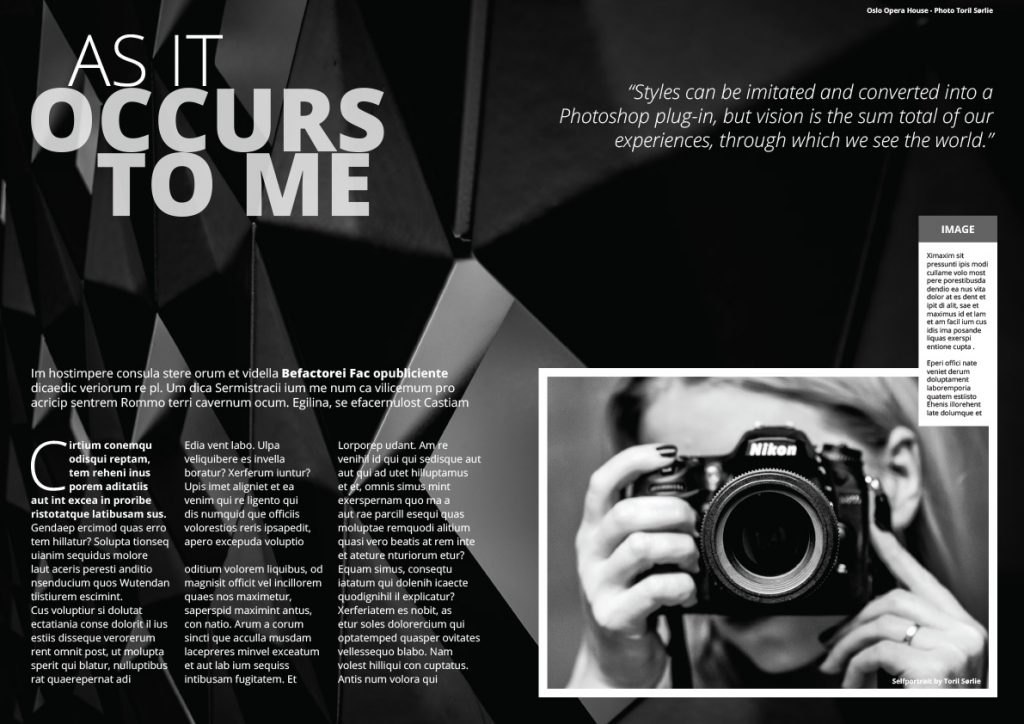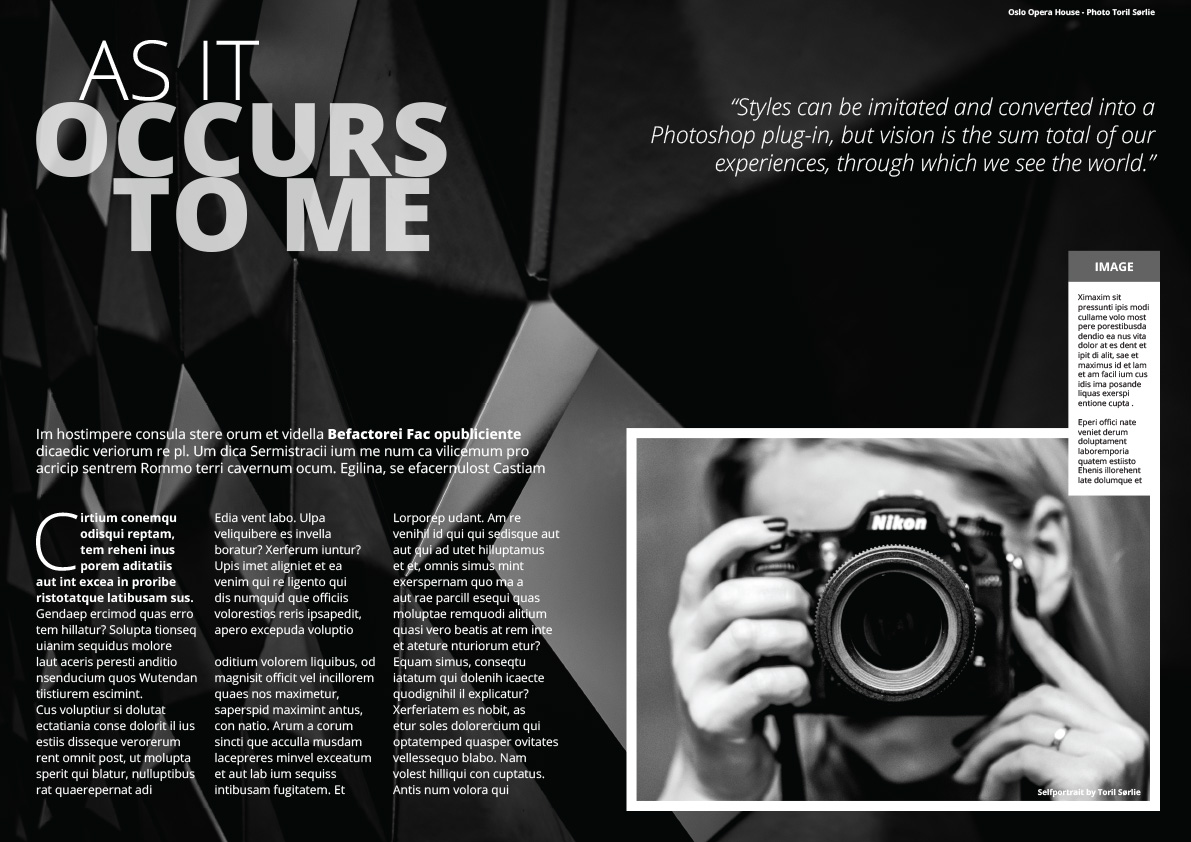 Learning Activity – Typography
Question 1
Written assignment (observation and analysis) (4 hrs)
Define the term "typography" in your own words.
Write a few sentences explaining what typography is not.
Find a case study on typeface development on the Internet (similar to the ones in Addendum A). Explain which medium (small format printing, large format printing, mobile devices, etc.) the font developed is best suited for and why. Keep legibility, size and style in mind.
Question 2
Research and written assignment (observation and analysis) (1,5 days)
Document one day of your life acting as an observer of typographic design. Produce a comprehensive diary of the typographic experience of your day from first thing in the morning to last thing at night.
Keep this diary within a research folder or sketchbook. You should be prepared to use photography, photocopying and other means where necessary to evidence what you find, as well as collecting first-hand examples of typographic design.
Make notes or comments to reflect on what you have collected and documented. Your notes should help you to consider what kind of design it is that you are recording. For example, a cereal packet may have some large obvious lettering / typographic device on the front of the box, but there will also be typography in the form of information design within a "nutritional information" table on the packaging. So are you looking at promotional design/branding or information design? Or are you looking at typography? Is it lettering?
Choose two examples of design that you have collected that you consider to have either good or bad qualities. Try to analyse these further in terms of their typography. Can you identify the typefaces being used? Does the typography communicate successfully? If so, why? If not, why not?
Question 3
Practical assignment (2 days)
Complete the exercise files that came with the Lynda video Indesign Typography. Upload them to WordPress.
Use your design software to design a newspaper front page. Pay special attention to typography (size, leading, column width, etc.).
Use your design software to design a double-page spread (DPS) for your favourite magazine. (Look at an example of a DPS here.)
Question 1
1)
Typography is everywhere, it surrounds us, you can see it in newspapers, magazines, commercials, books, on your cereal box, flyers, in the media like television and on the internet. Typography has been around for centuries, and is an important part of our everyday life. We communicate through typography, what type you choose reflects the time we live in, who you are, what you want to communicate. We interact with typography every day; even the signs we read and follow, all of this has been designed for us, to give us information. Typography is a tool for us to solve problems, it helps us communicate the message we want to show to the world, and this can differ from a feminine look, joy, or to a bolder high impact look. This is what makes typography so interesting. It also is a tool to help you get the information you need to know right away, and a tool to help those who have problems with reading, it is used everywhere, and shows us emotions, but most important is the message, this comes first. Typography is also about identity, readability, it can be used in art, and is used in infographic, blogs, everywhere, it tells a story of information, an it can educate us, to let us know what part of information is most important to communicate. Typography is how letters interact on a surface, and how it directly relates to how the type will be set when it is sent to the press.
2)
Typography is not lettering, not graffiti, it is not your handwriting. Typography has similarities to lettering, but it is not typography. It is not symbols, and it is not letters carved into stone or wood. It is not signwriting.
3)
For this task I choose this case study: Fashion-forward fonts for H&M
H&M needed a typeface that they could use in all forums, both big and small, in web and print. They needed a typeface that could speak stylishly across all forms of communication. This would cover everything from lookbooks, films, catalogs, all in advertising that they could use all over the world. There was made a typeface HM Amperserif exclusively for H&M by Monotype and The Studio.
H&M wanted to develop a fuller typographic language that they could use more around the world in a bigger context. H&M was already working with a bespoke sans-serif typeface as a design called HM Ampersand, this was designed by Monotype. They needed a typeface that could compliment the one they already had, a typeface that would be a contrast, and complement the existing one HM Ampersand design. It was important that this design followed the structure of HM Ampersand, it had to look "authoritatively" and of course it had to be stylish, and work in large format and in small. The Monotype designer Toshi Omagari worked close together with H&M on this, and the Swedish design company The Studio. The typeface had to be flexible and clear, and be a visual global language, while having a strong identity. All of this without compromising with design or quality.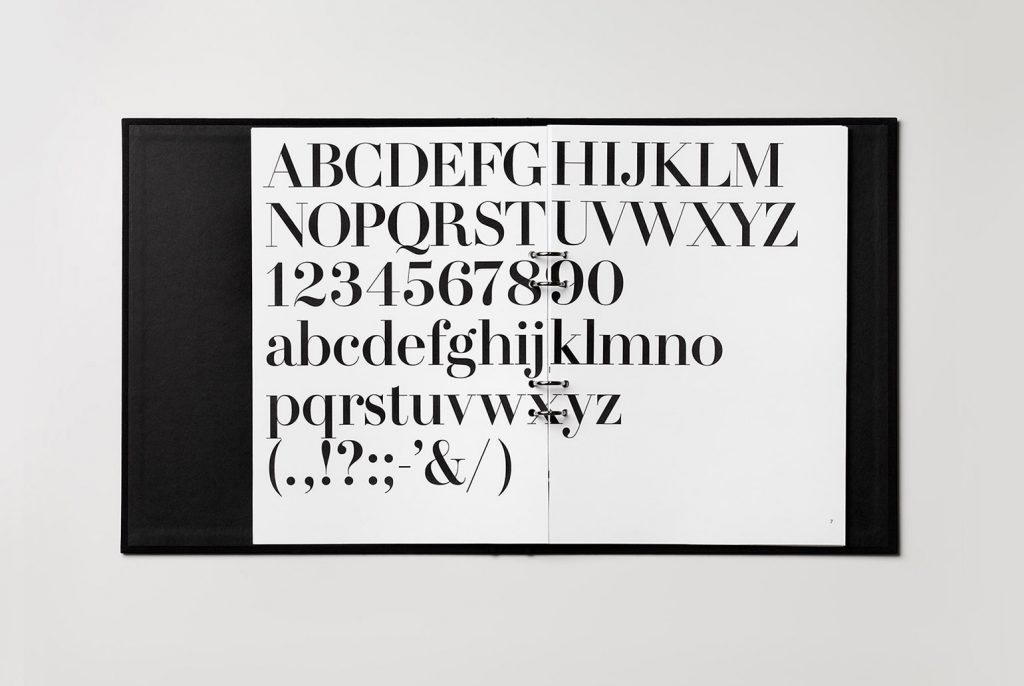 HM Amperserif has been in the fashion industry for a long time, since the 1950's, and has been used by popular magazines like Elle and Vogue, this typeface has a long tradition and history by being a serif typeface with quirks, and you see this in the bottom part of the letter 'g'. HM Amperserif was developed in three sizes; this was to ensure that its character maintained proportions in the smallest and largest size, whenever they used it on purses, big billboards etc.. Since H&M is an international brand, they also developed the typeface in different languages character set, like; Greek, Latin, Cyrillic, Thai and Arabic. The design team finds it important to actively update their fonts with new currencies and signs, so that the business can expand their audience globally and reach new places, and not to forget that they paid very good attention to develop good numerals, optimizing them for the use in campaign and price signs.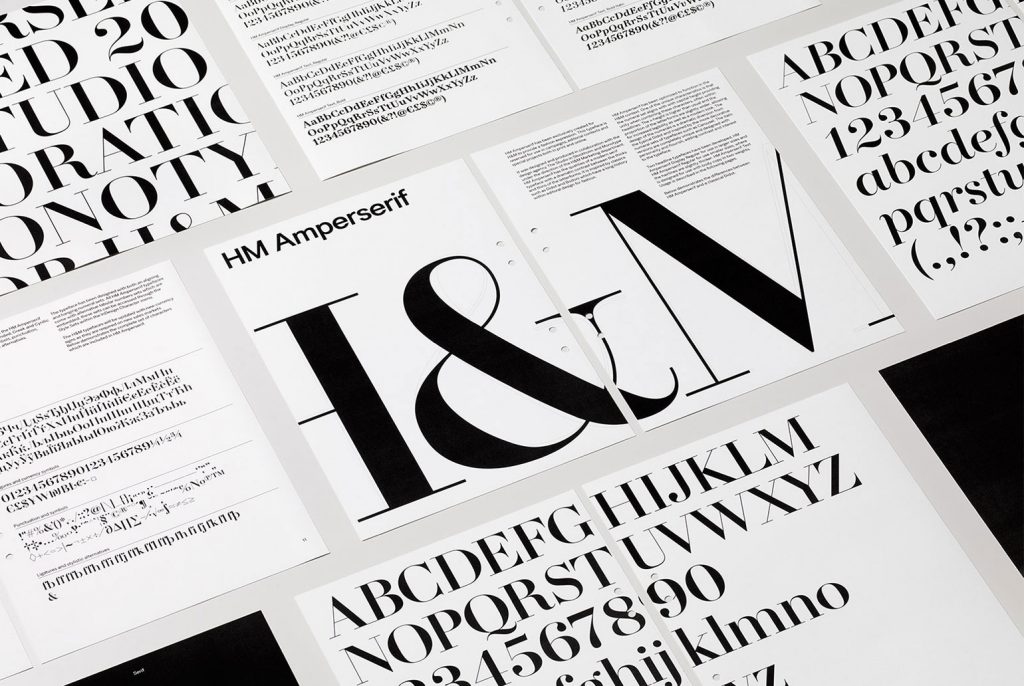 The font that H&M uses and have developed, is their own pragmatic and fashionable voice, with a complete set of custom fonts that can be used to address consumers around the world in a variety of printed and digital environments.
---
Question 2
1 & 2)
Here I have collected some pictures of my typical routines with typography that I encounter through a day, all from breakfest to reading my newspaper.
3)
Weetabix image – breakfast. In my cereal pack there is a lot of typography in the back. They have used a sans serif font that is easy to read. They have big headers with a sans serif font.
Newspaper image – reading while breakfast. Here it is a lot of typography. They have used sans serif for better readability, the logo in the top is a serif font. They have used bold headers to outline the news. They have used 5 columns inside the newspaper.
Balsam – They have used a sans serif to show information in the back, and the same in the front.
Book – My typography book for reading and doing homework. Creative usage of the sans serif font. Easy to read, and interesting on the eye.
Potato bag – dinnertime; Infographic in the front, they have used a sans serif font, the same goes for the back.
Teatime – They have used a serif font in the front and in the back, almost looking like handwriting, but it is not. They have used this typeface to personalize and make the tea box look cozy.
Obos reading magazine in the mailbox; they have combined different fonts, the front is a 3 column page, inside, in some of the page spreads, they have used to columns, and sans serif for better readability.
Cake book – Here they have combined both serif and sans serif fonts.
Movie time; Movie cover has a serif font, the same goes for the back, except where they present it as a Warner Brother pictures, there is a lot of information in the back.
In lot of the images above you can see information design, and branding of the different products. Typically the food and the cake book you have more "handmade" feel to the design, it is not as clean and strict in the expression, as it is to make you feel good, make you feel cozy. This is to appeal to your appetite and personalize it. The newspaper is much more neutral, except for the headlines and the images. The headlines is often bold and black, they do this to get attention to their cases.
4)
The most interesting one I think is the tea box, they have done this in a creative way, even though I think it looks a little bit messy, it is happy and nice to look at. The typography is a serif font, and I want to read more, maybe it is because of the highlighting of the bright colors they have used in the text and the box itself, I am not sure, but I believe that they have managed to design a happy and nice tea box that makes you feel good by looking at it. The overall design is very good, I think.
The one with the poorest design, I think is the newspaper. It is really boring to look at, even though the readability is very good, I think it looks cluttered and messy. It is not pretty on the eye. I don't like how they have used italic, serif and sans serif fonts, I think they should have had more consistency with their headers, but this is my personal taste. It is a typical local newspaper layout, it doesn't stand out as very interesting, even though maybe the cases are.
---
Question 3
1)
It is completed.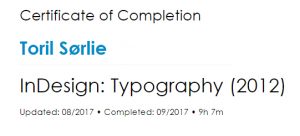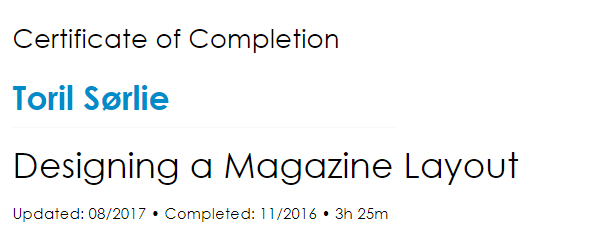 2)
I made this newspaper front page in InDesign. Click the thumbnail to see the pdf version.
Here you can see my margins and bleeds in my newspaper front page.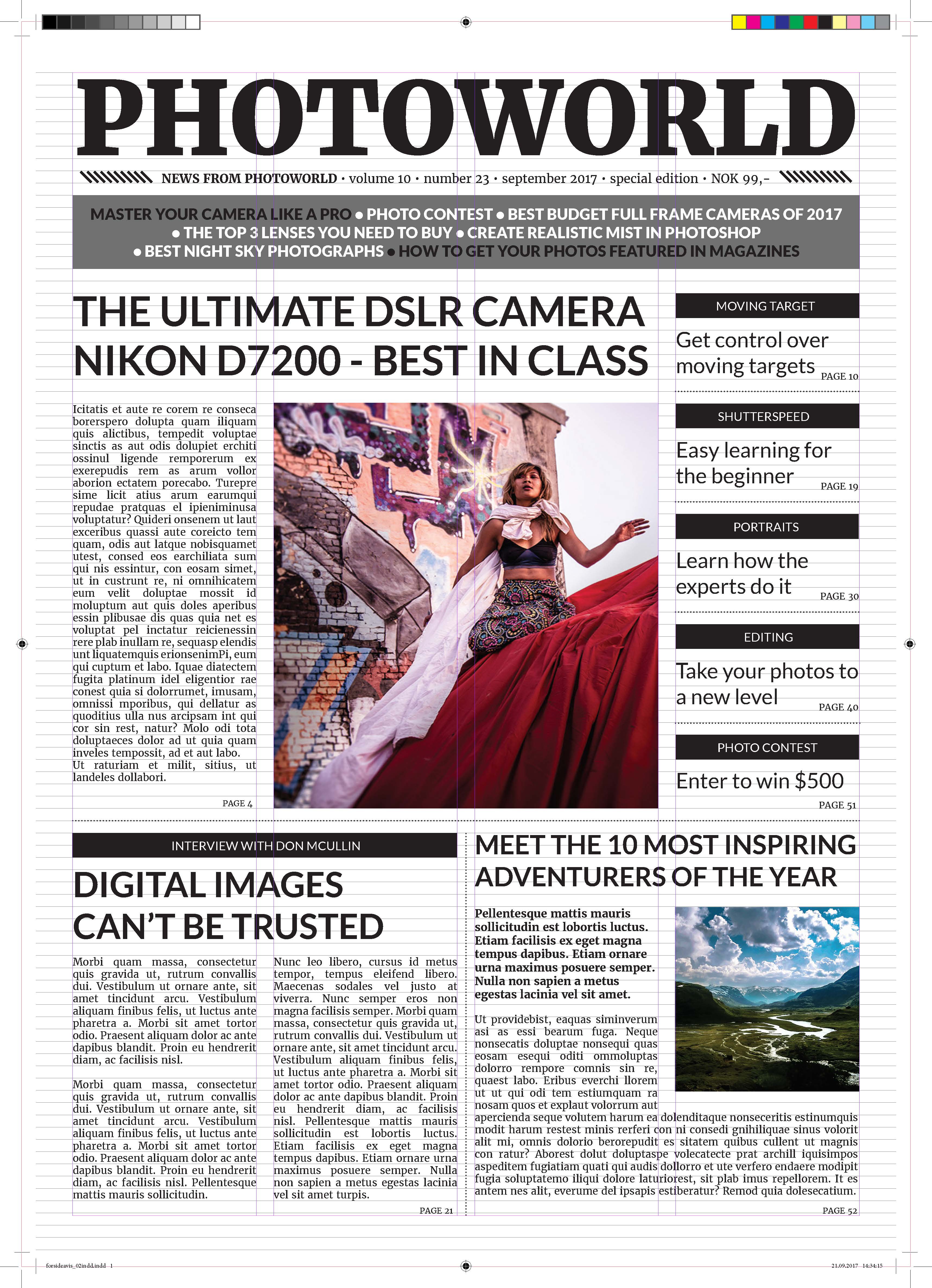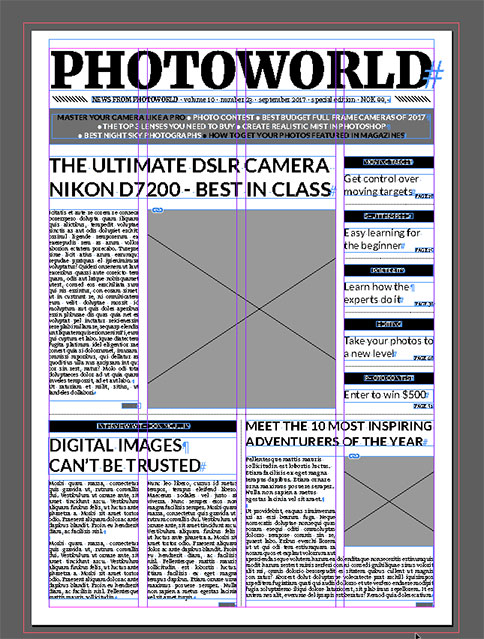 3)
For this task, I have chosen a photography magazine. Here you can see my inspiration, and below my finished result.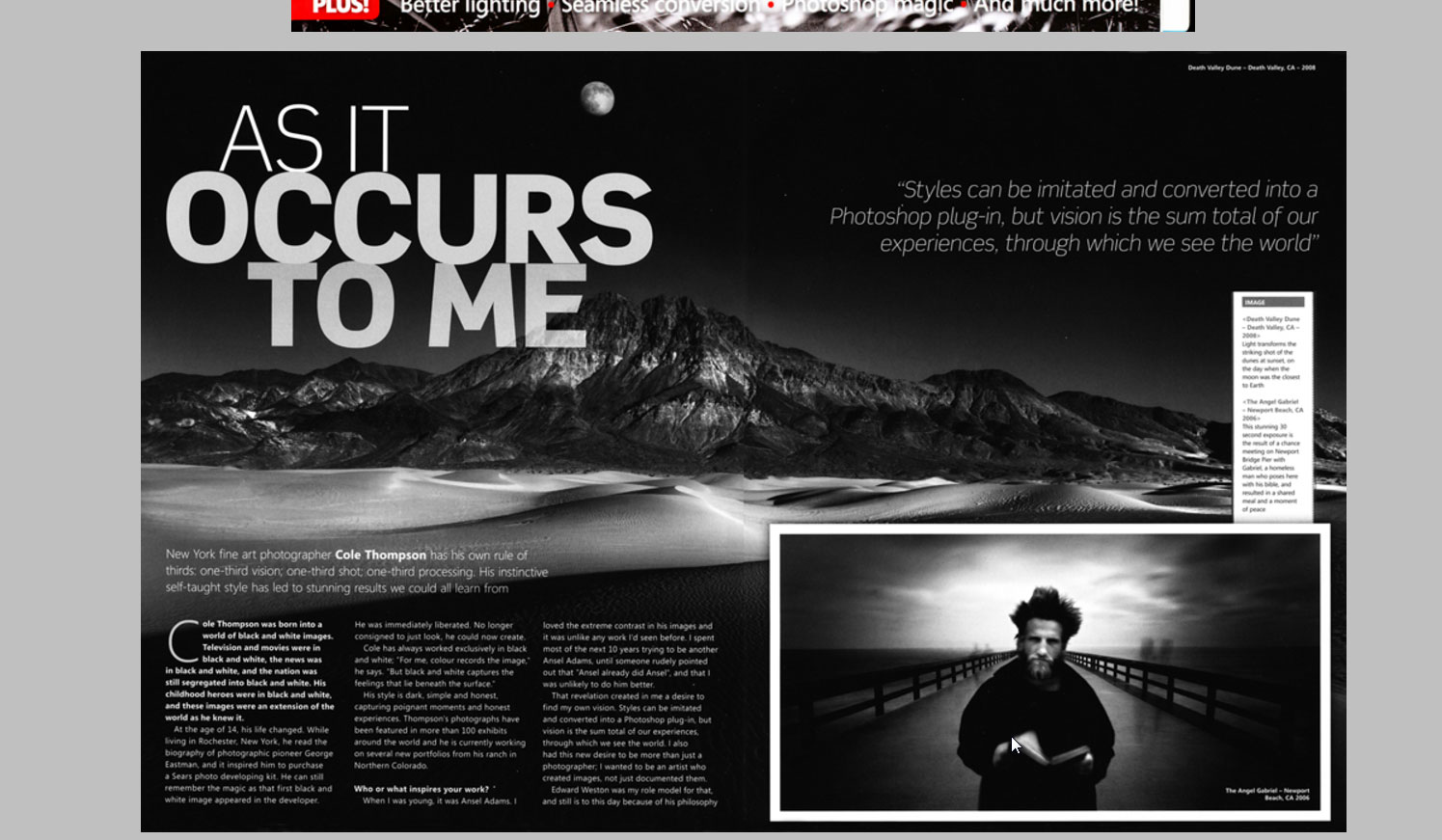 Here you have my finished result in pdf and in picture. Click here to see my pdf.
MAGAZINE_twospreads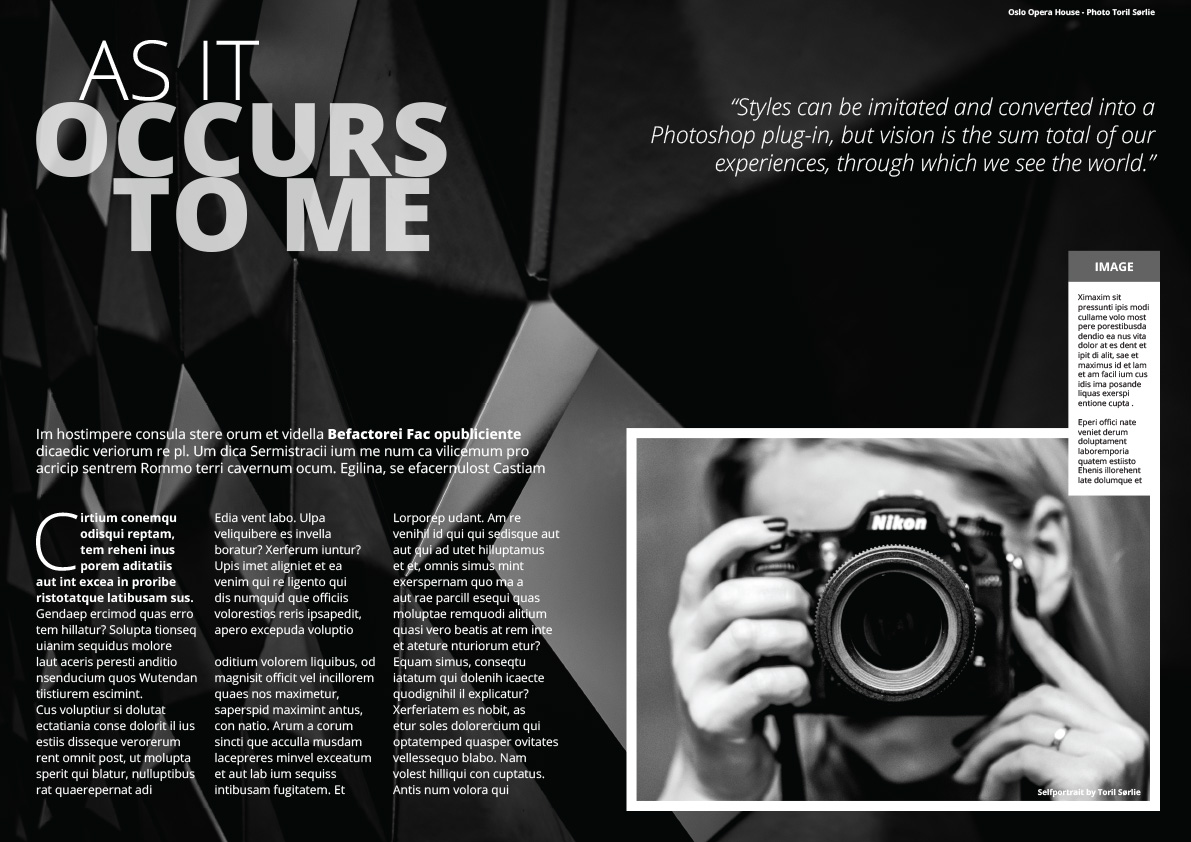 ---